Around this time of year, the Motorsport world goes into hibernation with very few events taking place - although as we've already seen there are still many ways to take part in the sports during this period too with your local Motorclub. However, every January the world renowned motorsport magazine
Autosport
hosts a huge extravaganza in Birmingham's N.E.C. where race series get the chance to show off their credentials to potential competitors and the specialist car makers are equally keen to unveil their latest creations. Many of these cars will turn up in competitions around the UK very soon, so it's a great time to take a look at what's new this year.
Overdrive will be there as well, and we'll be bringing a special edition of the programme out with the highlights for UK Club and National Motorsport.
TRIPLE LAUNCH FOR RADICAL
Will Radical's latest offering match their previous success?
Photo - Radical Sportscars
Radical Sportscars will launch an astounding three cars at Autosport International, headlined by its new trackday and road-focussed roadster, the SR3 SL.
The show is your first opportunity to see the 300bhp SR3 SL, which is powered by a 2,000cc Ford-RPE EcoBoost engine. The turbocharged unit has Twin-Independent Variable Cam Timing, while high-pressure direct injection transmits its power to the road via a six-speed sequential gearbox. Radical is also offering a 'race pack' for the SR3 SL, with options including an engine calibration map selection, FIA-approved fuel cell, racing bi-plane rear wing and racing tyre options.
Not only this but Radical will also be revealing the 2011 SR3 RS and the new SR8 RX, which features RPE's new 2.7 RPX V8 engine. Visit hall 20, Stand 2600 to see these cars for yourself.
ALL-NEW MODEL FROM CATERHAM
Caterham's best known product, the Seven
Photo - Caterham Cars
Want to see the car that racers and trackday drivers will be salivating over in 2011? Caterham Cars will be unveiling a brand new model at the show. Aimed at the racing and trackday communities both home and abroad, the new Caterham is equipped with the next generation Caterham Motorsport engine, while continuing the lightweight and minimalist styling of the iconic Caterham Seven.
Head over to Hall 20, Stand 2641 to get your first glimpse of this very special car.
NEW CAR FOR 2011 GINETTA GT SUPERCUP
Ginetta's latest Model - the G55
Photo - Ginetta Cars
Be one of the first to see the new Ginetta G55 that will compete in the new Michelin sponsored Ginetta GT Supercup in 2011, which will support the British Touring Car Championship.
The 370 bhp Ginetta G55 boasts a 3.7 litre Ford engine, Hewland gearbox, cool air induction kit, up-rated front and rear brakes, new exhaust system and new bodywork, complete with improved aerodynamics. The new car has been developed to expand Ginetta's racing career ladder further and highlight an affordable route into GT3.
To see the new car and find out more about Ginetta's new series, visit Hall 20, Stand 2450.
NEW RACER FROM TURKEY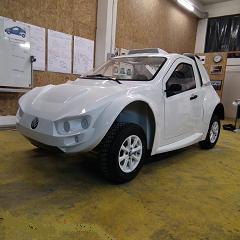 Turkish Delight?
Picture : Avitas Racing Cars
Turkish composite specialists, Avitas, will be taking the covers off its first complete car, the Control-1, in Hall 6, Stand 6645 on Thursday 13 January 2010.
The Control-1 has been designed and built in-house, and is the result of two years of development by the Istanbul-based company. Based around a tubular chassis with carbon fibre panels and all-round double-wishbone suspension, the car is fitted with a 150hp motor, mated to a five-speed sequential gearbox and weighs just 660kg.
The Control-1 is intended to be inexpensive to buy and run, providing both competitors and championship organisers with an efficient way to go racing, or start a new series.
PORSCHE REVEALS 911 GT3 R HYBRID
Unmistakably a Porsche, Will the hybrid version appear
in British GT and British Endurance soon?
Photo - Porsche
Porsche's ground-breaking 911 GT3 R Hybrid race car will be unveiled in front of the crowds in Hall 20, Stand 2540 at Autosport International. The new model made its race debut at the
Nurburgring in Germany as part of the VLN Championship in 2010, and has since raced in America and China as part of data capture on the durability of its alternative energy resources.
The car has an electrical front axle drive with two electric motors, each supplementing the 4.0-litre flat-six 'boxer' petrol engine. It feature an electric flywheel power generator that is charged-up whenever the driver applies the brakes, supplementing the energy for a competitive advantage when accelerating out of a bend or overtaking, as well as saving fuel.